Cambridge English Qualifications Award Ceremony 2021
Cambridge English Qualifications Award Ceremony 2021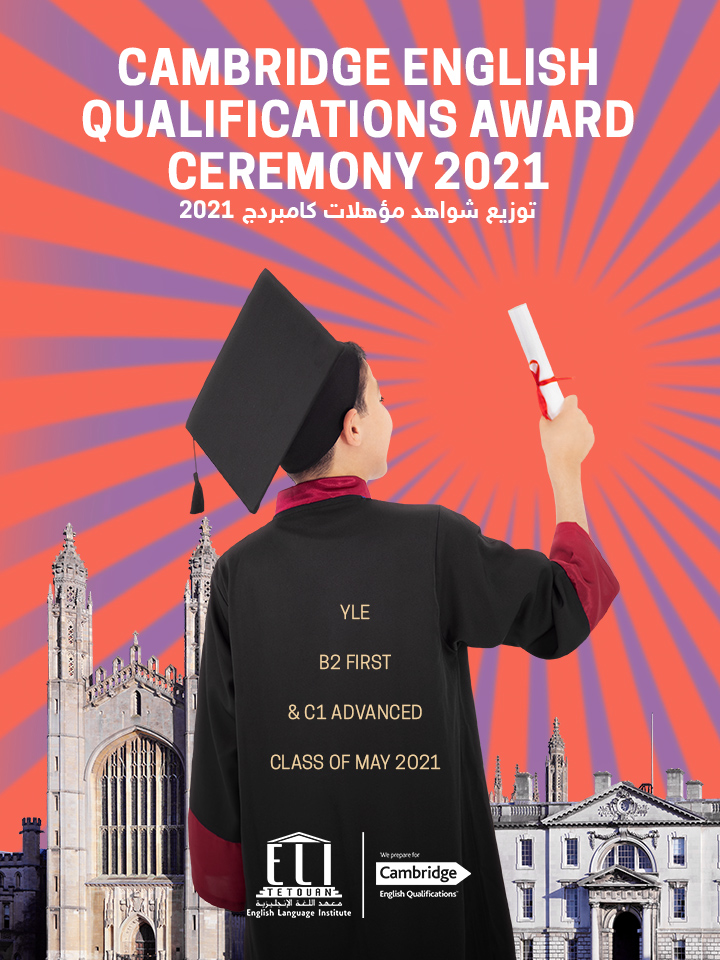 احتضن المعهد حفلا رمزيا لتسليم شواهد مؤهلات كامبردج لفائدة الفوج العاشر لإمتحان كامبردج B2 First فوج ماي 2021 و الفوج الحادي عشر لإمتحان كامبردج C1 Advanced.
و قد حصل طلبتنا على نتائج باهرة رغم الظروف الصحية الصعبة التي رافقت تحضير و إجتياز هذه الإمتحانات.
كما كان لنا موعد مع حفل رمزي لتسليم شواهد مؤهلات كامبردج للصغار المستوى الأول Pre A1 Starters و A1 Movers و A2 Flyers الفوج السادس ماي 2021.
تمكن هذه المؤهلات من تحفيز الأطفال على تعلم اللغة الإنجليزية و إعدادهم لاجتياز الإمتحانات الدولية في تقييم اللغة الإنجليزية التي تفتح لهم آفاق واعدة في المستقبل سواء في الدراسة او العمل.
الشكر الجزيل لجميع الطلبة و أولياء أمورهم على الثقة الكبيرة في المعهد و نتمنى لكل المترشحين مسيرة دراسية موفقة.
Elitetouan hosted a ceremony to deliver Cambridge Qualifications certificates to its tenth cohort of the Cambridge Exam First B2 (May 2021) and its eleventh cohort of the Cambridge Exam Advanced C1.
Our candidates obtained impressive results despite the difficult health circumstances that accompanied the exams' preparation and their administrability.
We have also organised a symbolic ceremony to hand over Cambridge English Qualifications for Young Learners to its sixth cohort of the Cambridge Exam Pre A1 Starters and
A1 Movers and A2 Flyers
(May 2021).
Actually, this qualification motivates kids to learn English and prepares them to pass international exams in English language assessment ahead. The thing which opens promising prospects for them in the future whether for study or work.
Many thanks to all our students and their parents for their great confidence in the institute, and we wish all our awardees a successful study future.