May online Interactive Bac Intensive Courses.
دروس ماي المكثفة التفاعلية لتحضير إمتحان الباكالوريا عن بعد.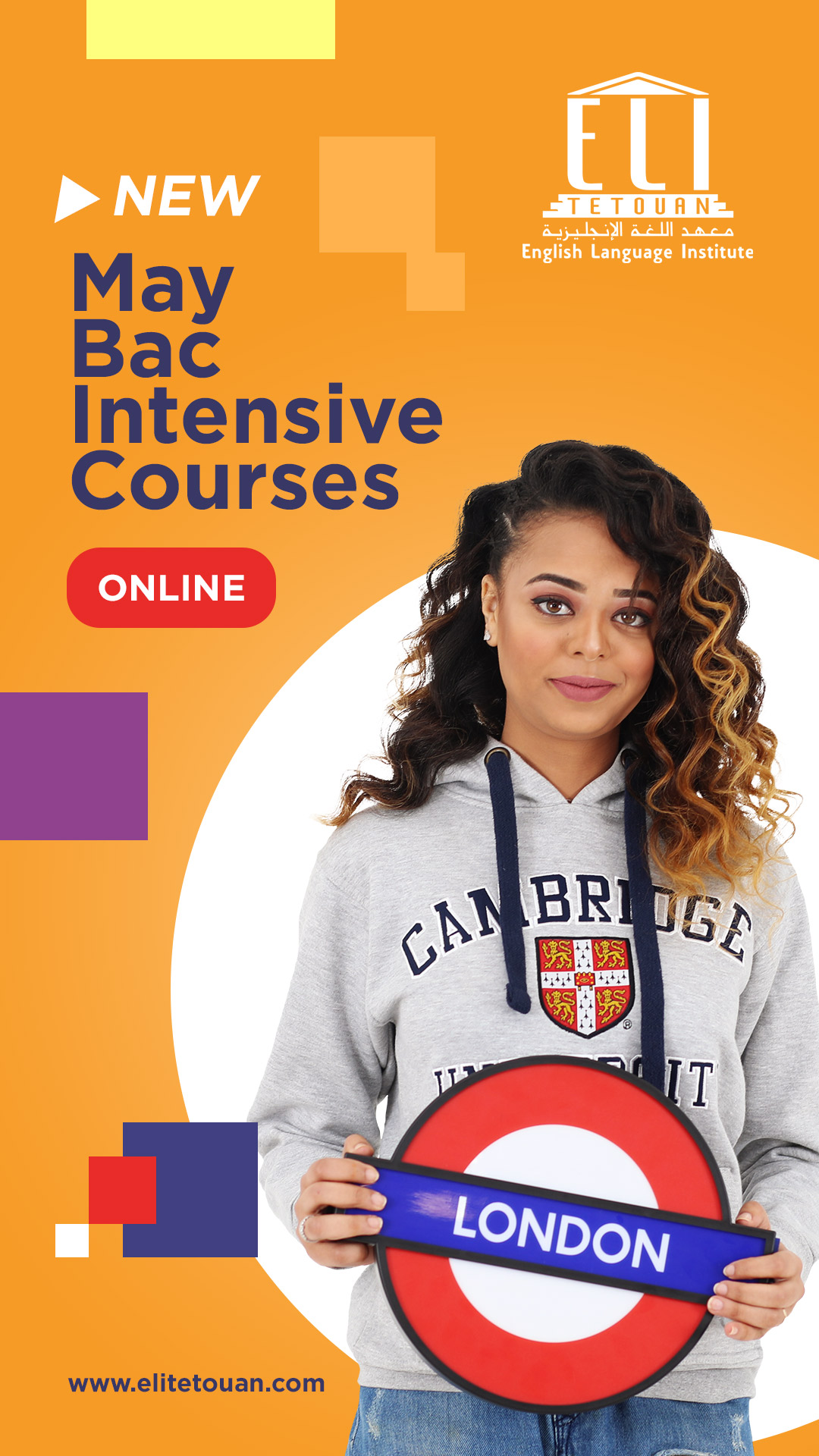 في ظل ظروف الحجر الصحي الذي يعيشه بلدنا، يضع معهد اللغة الإنجليزية Elitetouan رهن إشارة تلاميذ السنة الثانية من الباكالوريا بجميع شعبها، دورة مكثفة تفاعلية عن بعد بواسطة تقنية الأقسام الافتراضية التفاعلية قصد تهييء إمتحان الباكالوريا في مادة اللغة الإنجليزية.
– Bac Grammar consolidation.
– Vocabulary and Functions.
– Some model writings.
– Reading strategies.
– Mock exam.
– Correction of some previous national Bac exams.
عدد ساعات الدورة 20 ساعة.
بداية الدروس إبتداءا من 8 ماي 2020.
ﺃﻳﺎﻡ ﺍﻟﺪﺭﺍﺳﺔ: ﻣﻦ ﻳﻮﻡ ﺍﻹﺛﻨﻴﻦ ﺇﻟﻰ يوم ﺍﻟﺴﺒﺖ.
ﺍﻟﻤﻮﺍﻗﻴﺖ: ﻗﺒﻞ ﺍﻹﻓﻄﺎﺭ / ﺑﻌﺪ ﺍﻹﻓﻄﺎر.
للمزيد من المعلومات يرجى الاتصال بنا على الأرقام التالية:
0539971415
0539995641
من الإثنين الى الجمعة من الساعة 12h00 صباحا إلى الساعة 3h00 مساءا.
للتواصل معنا عبر الواتساب يمكنكم بعث رسالة نصية الى احد الارقام التالية:
0620744201
0684329732
الموقع الالكتروني:
www.elitetouan.com
البريد الالكتروني:
info@elitetouan.com